About State Bicycle Co.
State Bicycle is known for their city bicycles, performance focused fixed-gear bicycles, aluminum track style bicycles, and, most recently, geared bikes (including offroad options).
State Bicycle's mission is to…
inspire and foster an enthusiasm for life lived on bikes. From engineering performance to style and everything we do for the cycling community and its culture, we never lose sight of why we ride–for fun. Consistently delivering that sense of fun while providing true value to our customers has kept us going and growing since 2009. 
However, State Bicycle needed an easy way to start stocking accessories in their store. They wanted a new way to wholesale with their suppliers that didn't burden them with upfront costs, excess inventory, and an impossible number of variants and skus. With each accessory, from helmets to gloves, they required variants of each size and color. It could have cost an estimated $41,000 to get the inventory that they needed!
It was overwhelming to break into these new categories, and extremely risky since State Bicycle didn't have a proven track record with these products. To avoid this risk, they turned to Carro and Brand Partnerships to begin selling products without the risk!  
The Solution
State Bicycle wanted to start stocking bicycle helmets, bike gloves, and bike locks. They could have done this the old-fashioned way, with purchase orders and loads of inventory. Instead, they decided to add their new products with Carro, which saved them a ton of time and money! 
With Carro, State Bicycle added products from Thousand Helmets, Handup Gloves, TiGr Lock, and Wolf Tooth Cycling. In just one click, they were able to add products to their website. Product images, descriptions, and other details were all automatically imported into their store so that they could publish these products quickly and easily. 
Now, State Bicycle can sell helmets, gloves, and locks without purchasing any inventory or paying any fulfillment costs. That's $41,000 in savings compared to the old-fashioned way of purchasing inventory upfront. Instead, customers can shop State Bicycle for everything they need, and these products from partners will be fulfilled by the partner whenever a new sale happens. 
Through Partnerships, State Bicycle was able to expand their product catalog without spending a penny! 
If State had stocked accessories on their own, they would have needed…
A warehouse

Warehouse workers

Inventory, purchased and paid for

Shipping services

A line of credit to pay for the inventory

Wholesale suppliers

Purchase orders

An IMS (Inventory Management Service)
Estimated Costs to Get Started: $41,000!
With Carro, State Bicycle needs…
Carro Installed

Suppliers picked out of the Directory 

Products added with just one click!
That's it!
Their Secret Weapon: Cross-Selling!
Once State Bicycle added their partners' products to their stores, they didn't let them sit in some collection. They got them in front of their customers! 
State Bicycle used a cross-selling app so that when a customer added a bike to their cart, the app would recommend related accessories like helmets and gloves. With this technique, State Bicycle was able to generate revenue and increase their order values, while also providing a great customer experience. These customers no longer had to explore the entire site or look at a different retailer for the rest of their purchase. Instead, accessories were right in front of them from the moment they expressed interest in buying a bike.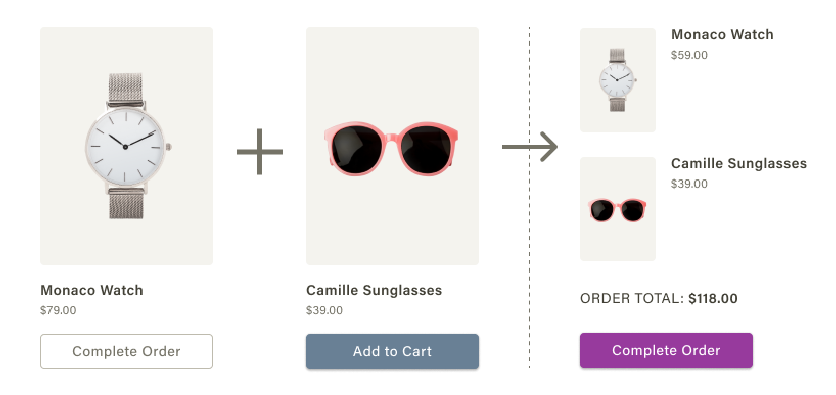 The Results for State Bicycle Co.
Without the risk of purchasing inventory or the upfront cost, State Bicycle was able to expand into new categories and easily add the accessories they wanted to their online store. Within the first 6 months of their partnerships, State Bicycle had generated $30,000 in revenue with their partnerships! 
State Bicycle had their first order for partner's products within two days of completing their setup. 
Look at how their partner's products sales and revenue are growing month after month! 
4
SUPPLIER PARTNERS
Handup Gloves
Thousand Helmets
TiGr Locks
Wolf Tooth Cycling
 $30,000+
REVENUE GENERATED
within 6 months of launching their first partnership.
Conclusion
With Carro, brands can add products to their own store without investing anything in inventory or fulfillment. Products are seamlessly imported into the store so that you can start selling in minutes. State Bicycle was able to provide a complete buyer's journey for their customers by providing the accessories that they needed. By partnering with helmet and bike accessories suppliers, State Bicycle was able to cross-sell to their customers with every variant, color, and size that their customers were looking for. They saved money because they didn't have to purchase anything up front. They also saved time by allowing their partners to handle the fulfillment. 
Install Carro today to start selling products from top-selling Shopify stores on your own site! 
Download the Case Study
Get the entire case study in a handy pdf format for sharing!